Indonesia is the country with the largest number of islands in the world. There are over 17,000 beautiful islands in Indonesia and one of them is Gili Air Island. You should experience for yourself how amazing the island is.
Gili Air is one part of the famous trio of the Gili Islands, besides Gili Trawangan and Gili Meno.
Gili Islands are near to the mainland of Lombok, located around 50 kilometers to the east of Bali. Lombok quickly becomes well known as one of Indonesia's hidden paradise. Many people from all over the world choose Lombok as their new holiday destination and if they come to Lombok, most of the people will continue their journey to the three famous Gilis (Gili Air, Gili Meno and Gili Trawangan ).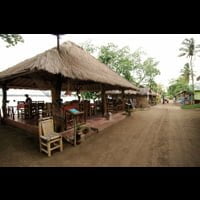 The word Gili means "small island", The largest of the Gillis is Gili Trawangan. A few minutes away from Gili Trawangan lies Gili Air, the latest place for international tourists. Gili Islands used to very quiet and only the island's local people lived there, but travelers found the hidden paradise and shared their secret to the world.
Gili Air and other Gilis have the similar situation, with white sand beaches and clear blue ocean, beautiful coral reefs and fishes, made those places are very popular for divers and snorkelers from all over the world. The islands have relaxing vibe, so it no matter what kind of activities that you do, you simply can enjoy it to the max.
The Gili Islands have strict policy about motor transportation. There are no cars or motorbikes allowed on the gillis, so you can just walk, use a bicycle or a horse cart (called cidomo) to travel around the islands. People in here have the famous Indonesian hospitality. The many options for food range from warung (traditional store) to Western style Restaurants and Cafés.
---